Unearth your truest voice in this 4-part workshop for women led by Elizabeth Lesser, Kemi Nekvapil, and Loung Ung.
There's a rich well of creative power inside of women, waiting to be tapped and expressed. How do we uncover that voice? How do we learn to trust our instincts, intuition, and unique ways of leading—at home, at work, in the world?
Join best-selling author and Omega cofounder Elizabeth Lesser, Australian-based coach and leadership expert Kemi Nekvapil, and human rights activist and author Loung Ung, for a deep dive into discovering, (re)connecting with, and expressing your truest voice.
In addition to guidance and practices, there will be time for Q&A with each of the instructors, as well as a final session with all three in conversation. Explore the challenges and the rewards of trusting your truth, speaking up from the inside-out, and doing power differently.
This workshop will be offered in four sessions.
Session 1: Find Your Voice with Elizabeth Lesser
Session 2: Trust Your Dreams with Kemi Nekvapil
Session 3: Release Your Creative Power with Loung Ung
Session 4: Bringing Our Voices Together
---
Schedule
Session 1: Find Your Voice
Faculty: Elizabeth Lesser
Date: Wednesday, April 7, 7:00-9:00 p.m. EDT (4:00-6:00 p.m. PDT)
In her new book, Cassandra Speaks: When Women Are the Storytellers, the Human Story Changes, Elizabeth Lesser articulates the importance of awakening from the old stories that have kept women from trusting what we know and who we are.
"It's time for us to redefine courage, and to be a new kind of leader—at home with our kids and our mates, and at work and in the world," she says.
Elizabeth guides you in meditation, conversation, writing, and other exercises to heal what stands between you and your truest voice, to value what you know, and to follow your boldest vision.
---
Session 2: Trust Your Dreams
Faculty: Kemi Nekvapil
Date: Wednesday, April 14, 7:00-9:00 p.m. EDT (4:00-6:00 p.m. PDT)
In her work as a coach, speaker, and workshop leader, Kemi Nekvapil has observed an increase in global change as a result of women using their voices. To build upon that change, Kemi invites you to acknowledge who you are, who you want to be, and to bridge the gap with support—to own your dreams, your challenges, and your voice.
Through conversation, meditation, and journaling, you explore:
Learning how to ask for more, ask for different, ask for better
Naming and owning the aspects of your inner voice that are no longer serving you.
Using your own journey toward empowerment to help other women do the same
Kemi says, "The more of us who can stand in our personal power and use our voices, the better, and with that privilege, I believe we must speak for those women who cannot. We are all in this together."
---
Session 3: Release Your Creative Power
Faculty: Loung Ung
Date: Wednesday, April 21, 7:00-9:00 p.m. EDT (4:00-6:00 p.m. PDT)
As a child, driven by her inability to speak the words to describe her pain, Loung Ung recorded her thoughts onto the pages of her journals. Many years later, those pages would become her memoir, First They Killed My Father, the story of surviving the Cambodian killing fields. Through the writing of it, she also came to understand the healing power of rewriting her narrative from victim to survivor, from scared child to an advocate for peace.
In this workshop, Loung shares tools to help you rewrite your narrative and change your life. Through writing exercises, conversation, and small-group sharing, Loung will guide you to write your story and use your voice for what matters most.
---
Session 4: Bringing Our Voices Together
Faculty: Elizabeth Lesser, Kemi Nekvapil, and Loung Ung
Date: Wednesday April 28, 7:00-8:00 p.m. EDT (4:00-5:00 p.m. PDT)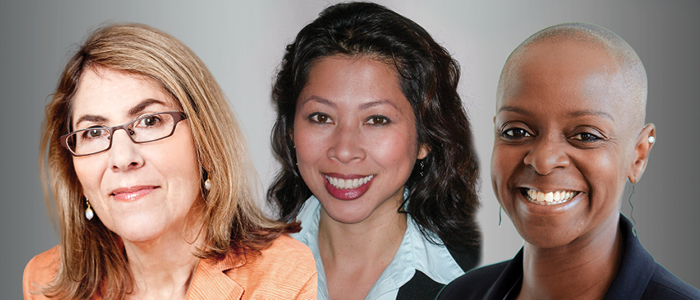 Elizabeth, Kemi, and Loung close out this series with a far-reaching one-hour conversation about the power and pleasure of women helping each other change and uplift our individual and collective voices. They will also weave together the themes of their respective sessions and take your questions.
For registered participants, each session will be available on demand after the live session is complete.
Meet the Teachers
Elizabeth Lesser is the cofounder of Omega Institute, recognized internationally for its wor ...

Kemi Nekvapil is an International Coach Federation credentialed executive and personal coach ...

Loung Ung is a bestselling author, activist, and co-writer of a Netflix Original Movie direct ...
Tuition
Title
Price

Uncover Your Creative Power
Lost Your Link?
Have you lost the link you received to view your online course? Please make sure that you are logged in to Omega's website. Then go to your Profile page and look for the "My Online Courses" tab (under "More" on a mobile device). Your online courses are always kept there.
View My Online Courses
FAQ
How can I register for a live stream or purchase an online product?
You can purchase any of Omega's online learning products exclusively through eOmega.org using Visa, MasterCard, Discover, or American Express. Registration is only available online (and not by phone).
You will find a registration box on the left side of the page of the program you would like to register for. Click "Register."
If you have an eOmega.org account you can log in to register. You must create an account to register.
Once you have completed the checkout process, you will receive a confirmation email containing a unique link to access your product. If you purchased a live stream, you will also receive a reminder email on the day of the event. Please note that registration for online programs can only be done online, not by phone.
How do I view my purchase?
You will be sent a confirmation email after you register for your product. It contains a link to view the live event or on demand page. Please keep this email in an easy to find spot and check immediately to make sure the link is working. If you lose or delete this email, click here to have another sent to you.
You can also find your videos on your account page. Under the "My Orders" tab, click the "Access Workshop" link.
What is your refund and/or cancellation policy?
All online learning sales for live video streaming, on demand, and online workshops are final. No credit or refund is available. Omega reserves the right to cancel a program at any time. If Omega cancels a program, you will receive a full refund.
If I purchase a live stream or online workshop, can I share my link with a friend?
The email confirmation link that you will receive from Omega is non-transferable. It will only work for one dedicated IP address per household. If you have more than 1 computer or video-enabled device in your home, you will be able to watch the video stream simultaneously on each device, but you would not be able to share the link with a friend.
Are Omega's online products compatible with tablets and mobile devices?
Omega's video event page is responsive and will work on any of your Wi-Fi enabled devices, including your computer, laptop, tablet, and/or smart phone. There may be unique cases when a live stream is only available on desktop and laptop computers.
Is there a required bandwidth for streaming Omega's video learning sessions within the platform?
A 5 Mbps internet connection is recommended for the course streaming video elements. If you are using WiFi over an iPhone or Android and your connection is poorer, it may lower the quality of streaming.
Will an archive of a live event be available to watch at a later date?
Some live events will have archived videos available on demand for a specified number of days after the event, depending on the event. If a program is available on demand, an archive of the live event will typically be available immediately following the event.
How do I watch an archived version of a live event?
The archived version of a live event is accessible through the link in your confirmation email or the "Access Workshop" link on your profile page. Once you have accessed the on demand player page, you can watch any of the video segments by selecting them through the on demand dropdown menu. If you purchased limited access to a streaming event, you will only be able to watch those selected segments.
When should I log on to watch a live event?
You will receive a reminder email on the day of the live event. We encourage you to log on 5-10 minutes before the event begins. You will see a countdown clock before the event begins. When the live event becomes available, the screen will change. You may need to refresh your page or click play to begin viewing. You may also see a pre-streaming video before the actual live event begins.
What happens if I join a streaming event already in progress?
All of Omega's streaming events have a live DVR rewind feature. If you join an event already in progress, you can simply rewind by clicking the status button on the status bar at the bottom of the video player and dragging it back to the beginning.
If you leave a live and/or on demand video event early or accidentally close your browser, you can easily access where you left off in the broadcast by clicking and dragging the status button to move forward to where you were when your browser session ended.
How do I use the chat during a live video event?
Omega uses Chatroll to facilitate our live chat during an event.
Once you have logged in, simply type in your thoughts or questions using the comment box on the player page and click the "Post as…" button in the bottom right-hand corner of the comment box to submit.
You are solely responsible for your interaction with other users, whether online or offline. Omega is not responsible or liable for the conduct or content of any user. We reserve the right, but have no obligation, to monitor or become involved in disputes between you and other users. Exercise common sense and your best judgment in your interactions with others when you submit or post any personal or other information.
Why am I only able view the video, but not hear the speaker?
When you log in to watch a live event, please make sure that the volume on your computer is turned up. Prior to the beginning of an event, you may only see a pre-streaming video feed and the sound will go live at the start of the event. If the sound drops out during a live event, please let Omega's administrator know by utilizing the Tech Chat functionality located on the lower right side of the video page.
Why am I only able to hear the event? Why is the picture out of synch with the sound?
Please make sure that you are using the most recent browser version and have enough bandwidth. From time to time, you may experience a delay with picture and sound. If you experience any issues with the quality of the event experience, please let Omega's administrator know by utilizing the Tech Chat on the lower right side of the video page.
How do I reach an administrator for other concerns?
Please email onlinelearning@eomega.org for additional support. Your questions will be answered during business hours, Monday through Friday.
For any other questions, please see Omega's Terms & Conditions.