This unforgettable night of live chanting to benefit Omega and celebrate Ram Dass was recorded on December 19, 2020. This program is available on demand for all who participated in the live event through 12/31/21. 

Join in the celebration! 
We are thrilled to offer this virtual experience of one of Omega's most enduring traditions, where everyone will have a front row seat!
Voices Together: Ecstatic Chant to Benefit Omega features live performances by Krishna Das, Deva Premal & Miten, Jai Uttal, Wah!, Guara Vani and family, Steve Gorn, and Eric Fraser, plus video footage and recordings from Omega's historical Ecstatic Chant archives.
The event also includes interactive community sessions to share memories about Omega, Ecstatic Chant, and the many ways Ram Dass has enriched our lives.
The evening concludes with a candle lighting ceremony honoring our beloved Ram Dass.
To help Omega through the financial challenges brought on by the pandemic, and in the truest spirit of bhav, the artists are donating their performances so that all proceeds will directly support Omega.
Performers
Krishna Das Grammy-nominee Krishna Das is one of the foremost devotional singers in the world. Sharing his spiritual message through music and chanting, Das has produced numerous recordings, including Heart Full of Soul, Live on Earth…for a Limited Time Only, One Track Heart, and the Grammy-nominated Live Ananda.
Deva Premal & Miten
Grammy nominated Deva Premal & Miten are modern nomads on a mission to share with humanity the medicine of mantra. Their music has been included in movie soundtracks such as Walkout, Mantra, and 8 seconds, and is enjoyed by over 1 million monthly Spotify listeners.  
Jai Uttal
A Grammy-nominated singer and pioneer in the world music community, Jai Uttal has led kirtans worldwide for more than 30 years. His musical roots embrace a rich variety of cultures and traditions that span the globe and the centuries.
Wah!
Wah! has been making music for the yoga world for more than 25 years. She blends a seductive, Eastern-tinged spiritual sound with a unique mix of pop, world music, ambient electronica, hip hop, and reggae.
Gaura Vani
Gaura Vani was born into an American Hare Krishna family and left the United States at age six for a gurukula (temple school) in the holy city of Vrindavan, India. He studied ancient Sanskrit and Bengali prayers, and learned to play traditional instruments and sing sacred music.
Steve Gorn
Steve Gorn, whose flute music for yoga and meditation has been said to "re-align the cells," is featured in the Academy Award-winning documentary film, Born Into Brothels. Well-known to audiences in India and the West, he is an innovator in the field of contemporary world music.
Eric Fraser
Eric Fraser is a Licensed Creative Arts Therapist (LCAT) with a specialization in music and sound as a therapeutic modality. He works with people of all ages and has extensive experience working with children and families in foster care, children effected by adverse childhood experiences, autism spectrum, couples counseling, adult psychotherapy, group music therapy, trauma recovery, and addictions.
About Ram Dass
Ram Dass was one of America's most beloved spiritual teachers and a formative voice in the Omega community.
He was the author of many best-selling books, including the classic Be Here Now and Polishing the Mirror. Born Richard Alpert, he began teaching at Harvard University in 1958, where his explorations of human consciousness led him to conduct intensive research with LSD and other psychedelic elements in collaboration with Timothy Leary, Aldous Huxley, Allen Ginsberg, and others. Because of the controversial nature of this research, he was eventually dismissed from Harvard in 1963.
In 1967, a fateful trip to India led him to his guru, Neem Karoli Baba. Under his guru's guidance, he studied yoga and meditation and received the name Ram Dass, or "servant of God." He went on to pursue a variety of spiritual practices and became world-renowned for his dedication to loving service.
Ram Dass was the founder of the Hanuman Foundation, which developed the Prison-Ashram Project, designed to help inmates grow spiritually during incarceration, and the Living Dying Project, which provides support for conscious dying. He cofounded the Seva Foundation, an international organization dedicated to relieving suffering in the world.
Ram Dass also founded the Love Serve Remember Foundation, which is dedicated to preserving and continuing the teachings of Neem Karoli Baba and Ram Dass.
Schedule
Welcome
Live Session: Deva Premal & Miten
Community Share: Your Omega memories
Live Session: Krishna Das
Community Share: Your Ecstatic Chant memories
Live Session: Wah! 
Community Share: Your Ram Dass memories
Live Session: Jai Uttal
Live Session: Guara Vani & Family
Blessing & Candle Lighting Ceremony Honoring Ram Dass with Guara Vani
Live Session: Steve Gorn & Eric Fraser
Video of Ram Dass from 2001 Omega Retreat
Closing Om
---
Select Your Donation Level
$150
Mandala
Become part of our circle. Your gift provides much-needed support at this challenging time and brings you all the benefits of Omega Membership.
$250
Bhakti
Show your devotion to Chant and help secure future Omega programs; gifts at this level and above receive special donor recognition during the event (if received by December 16, 2020).
$500
Ananda
Experience the joy of Chant and help Omega serve its growing global audience by offering exciting new online experiences for seekers everywhere.
$750
Shakti
Harness the power of giving and help Omega expand the reach of our programs to provide hope and healing throughout our global community.
$1,000
Om
Be part of the evolution of consciousness by supporting Omega's transformative nonprofit work in the world.
---
Wear your support for Omega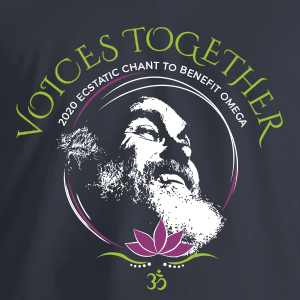 Order your commemorative concert t-shirt today! Learn more 
---
Things to Bring
Bring a candle to participate in the midnight ceremony to honor Ram Dass.
---
Lost Your Link?
Have you lost the link you received to view your online course? Please make sure that you are logged in to Omega's website. Then go to your Profile page and look for the "My Online Courses" tab (under "More" on a mobile device). Your online courses are always kept there.
---
FAQ
How can I register for a live stream or purchase an online product?
You can purchase any of Omega's online learning products exclusively through eOmega.org using Visa, MasterCard, Discover, or American Express. Registration is only available online (and not by phone).
You will find a registration box on the left side of the page of the program you would like to register for. Click "Register."
If you have an eOmega.org account you can log in to register. You must create an account to register.
Once you have completed the checkout process, you will receive a confirmation email containing a unique link to access your product. If you purchased a live stream, you will also receive a reminder email on the day of the event. Please note that registration for online programs can only be done online, not by phone.
How do I view my purchase?
You will be sent a confirmation email after you register for your product. It contains a link to view the live event or on demand page. Please keep this email in an easy to find spot and check immediately to make sure the link is working. If you lose or delete this email, click here to have another sent to you.
You can also find your videos on your account page. Under the "My Orders" tab, click the "Access Workshop" link.
What is your refund and/or cancellation policy?
All online learning sales for live video streaming, on demand, and online workshops are final. No credit or refund is available. Omega reserves the right to cancel a program at any time. If Omega cancels a program, you will receive a full refund.
If I purchase a live stream or online workshop, can I share my link with a friend?
The email confirmation link that you will receive from Omega is non-transferable. It will only work for one dedicated IP address per household. If you have more than 1 computer or video-enabled device in your home, you will be able to watch the video stream simultaneously on each device, but you would not be able to share the link with a friend.
Are Omega's online products compatible with tablets and mobile devices?
Omega's video event page is responsive and will work on any of your Wi-Fi enabled devices, including your computer, laptop, tablet, and/or smart phone. There may be unique cases when a live stream is only available on desktop and laptop computers.
Is there a required bandwidth for streaming Omega's video learning sessions within the platform?
A 5 Mbps internet connection is recommended for the course streaming video elements. If you are using WiFi over an iPhone or Android and your connection is poorer, it may lower the quality of streaming.
Will an archive of a live event be available to watch at a later date?
Some live events will have archived videos available on demand for a specified number of days after the event, depending on the event. If a program is available on demand, an archive of the live event will typically be available immediately following the event.
How do I watch an archived version of a live event?
The archived version of a live event is accessible through the link in your confirmation email or the "Access Workshop" link on your profile page. Once you have accessed the on demand player page, you can watch any of the video segments by selecting them through the on demand dropdown menu. If you purchased limited access to a streaming event, you will only be able to watch those selected segments.
When should I log on to watch a live event?
You will receive a reminder email on the day of the live event. We encourage you to log on 5-10 minutes before the event begins. You will see a countdown clock before the event begins. When the live event becomes available, the screen will change. You may need to refresh your page or click play to begin viewing. You may also see a pre-streaming video before the actual live event begins.
What happens if I join a streaming event already in progress?
All of Omega's streaming events have a live DVR rewind feature. If you join an event already in progress, you can simply rewind by clicking the status button on the status bar at the bottom of the video player and dragging it back to the beginning.
If you leave a live and/or on demand video event early or accidentally close your browser, you can easily access where you left off in the broadcast by clicking and dragging the status button to move forward to where you were when your browser session ended.
How do I use the chat during a live video event?
Omega uses Chatroll to facilitate our live chat during an event.
Once you have logged in, simply type in your thoughts or questions using the comment box on the player page and click the "Post as…" button in the bottom right-hand corner of the comment box to submit.
You are solely responsible for your interaction with other users, whether online or offline. Omega is not responsible or liable for the conduct or content of any user. We reserve the right, but have no obligation, to monitor or become involved in disputes between you and other users. Exercise common sense and your best judgment in your interactions with others when you submit or post any personal or other information.
Why am I only able view the video, but not hear the speaker?
When you log in to watch a live event, please make sure that the volume on your computer is turned up. Prior to the beginning of an event, you may only see a pre-streaming video feed and the sound will go live at the start of the event. If the sound drops out during a live event, please let Omega's administrator know by utilizing the Tech Chat functionality located on the lower right side of the video page.
Why am I only able to hear the event? Why is the picture out of synch with the sound?
Please make sure that you are using the most recent browser version and have enough bandwidth. From time to time, you may experience a delay with picture and sound. If you experience any issues with the quality of the event experience, please let Omega's administrator know by utilizing the Tech Chat on the lower right side of the video page.
How do I reach an administrator for other concerns?
Please email onlinelearning@eomega.org for additional support. Your questions will be answered during business hours, Monday through Friday.
For any other questions, please see Omega's Terms & Conditions.