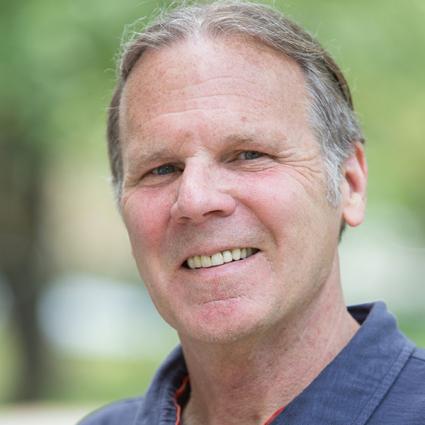 Robert "Skip" Backus is the chief executive officer of Omega Institute. For more than 20 years, he has played a leadership role at Omega as operations director and campus manager, maintaining all of Omega's buildings. In this capacity, he helped Omega lay the foundation for its environmental initiatives, creating and promoting innovative conservation efforts, including campus recycling and composting, sustainable purchasing and support of local agriculture, water conservation, and 100% sourcing of campus electricity from wind and solar technology.
Backus has provided visionary leadership for the Omega Center for Sustainable Living (OCSL), an environmental education center and natural water reclamation facility. Built to meet the highest standards currently available in sustainable architecture, the OCSL is a pioneering project in the Living Building Challenge™ and is the first green building in America to receive both LEED® Platinum and Living Building Challenge™ certification.
Lauren Mathis is assistant director of the Omega Center for Sustainable Living. Throughout her career, it has been her passion to support mission-driven organizations that are built to better the world as well as nurture the individual through social and environmental impact movements and programs. While at Wanderlust, she led the process to achieve B Corp certification and later cofounded the local chapter of B Corporations in New York City.
B Local NYC not only supports and welcomes businesses working as a force for good, but also nonprofits, community organizers, and social and environmental impact networks. She has extensive experience in partnerships and operations with non-profits and social enterprises alike, that work to support health and racial equity in the wellness field. Lauren moved to the Hudson Valley and joined the Omega team in 2019 and continues to explore what it means to nurture regenerative communities through her work at the OCSL, as well as other local initiatives.  
John Ferro, OCSL Communications, Editorial & Marketing Strategist, comes to us after more than 25 years at the Poughkeepsie Journal.  An award-winning reporter and senior editor, John served as the Journal's environmental and investigative reporter, and has covered everything from high school sports to county government over the years. His reporting has exposed problems with drinking water in a half-dozen local communities and raised questions about the state's preparedness for accidents involving crude oil. In 2013, John was selected by the National Science Foundation to report on how melting glaciers in Greenland contribute to sea-level rise. John grew up in New York City, attended Vassar College and has lived in the mid-Hudson Valley since 1983.